St. Thomas & the Cure for Modern Malaise
By Richard Meloche | January 28, 2021

"Woe to me if I do not Thomisticize."
—Jacques Maritain

St. Thomas Aquinas, Preface
←
Return to Musings
"Woe to me if I do not Thomisticize."
—Jacques Maritain

St. Thomas Aquinas, Preface
Ever since his canonization, a mere 50 years after his earthly passing, the Church has routinely advanced and promoted the precious wisdom of the "Common Doctor." A quick study of magisterial pronouncements makes it quite clear that the Church routinely encourages Thomistic thought precisely at times of acute cultural woe.
Why is this the case? I would argue it is because the thought of St. Thomas is perceived by Holy Mother Church to be a powerful medicinal agent—an elixir of sorts—that, at once, soothes, binds, and restores health. Take, for example, Pope Pius XI's encyclical Studorium Ducem promulgated in 1923; at which time the cultural body was in a feverish height of immorality—decadence, licentiousness, greed, the so-called "Roaring 20s"—all precipitated by a mostly economic migration from rural lands to urban factories. Surprisingly, the Church's solution to this cultural problem was to encourage a revival of Thomistic thought: "Go to St. Thomas!" She declared.
By prescribing a good dose of St. Thomas, She was addressing the problem at its root, as good doctors are known to do. Man uprooted from his native soil and transplanted in the urban landscape lost his capacity to think clearly and thus act morally. He severed himself from reality and immersed himself in artificiality. The wind, sky, and soil were soon replaced with concrete, neon lights, and conditioned air. With no immediate contact with reality he no longer wondered, and without wonder there was no wisdom, and without wisdom there was no virtue, and without virtue there was only cultural malaise.
The Church in Her motherly care thus prescribed to all men of good will the philosopher of the 'real'—St. Thomas Aquinas. To read St. Thomas is to immerse oneself in reality, in being, in 'esse'. And being so immersed in reality, the senses are awakened; the mind, in turn, is strengthened; virtue is ultimately pursued; and culture—one Thomist at a time—is restored.
Of course, our own culture is suffering from an even greater distancing from reality. We are now in what economists call the third industrial revolution: the complete digitalization of manufacturing. We have moved from factories to fiber-optics—with all reality being mediated through technology. In this season of disorder and malaise, it is thus perhaps high time for another dose of St. Thomas!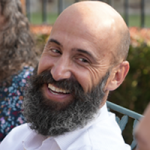 Dr. Richard Meloche serves as the president of the Alcuin Institute for Catholic Culture.