The Transfiguration & the Revelation of Essence
By Fr. Stuart Crevcoure | August 5, 2021

"Jesus took Peter, James, and his brother John, and led them up a high mountain apart by themselves. And he was transfigured before them, and his clothes became dazzling white, such as no fuller on earth could bleach them."
—Mark 9:2-3
←
Return to Musings
"Jesus took Peter, James, and his brother John, and led them up a high mountain apart by themselves. And he was transfigured before them, and his clothes became dazzling white, such as no fuller on earth could bleach them."
—Mark 9:2-3
I visited the Church of the Transfiguration on Mount Tabor on a beautiful April day. Pilgrims were there to visit the holy site, of course, but the mountain was also host to Jewish and Muslim families picnicking and enjoying the sunshine and natural beauty. The church itself had a transcendent and luminous quality, and it was easy to put myself into the well-known Biblical story of the Transfiguration of Jesus before his apostles.
In general, transfiguration means a changing of appearance, usually from the mundane to the extraordinary. Certainly this is what happened when Peter, James, and John awoke from their sleep and beheld Jesus in glory speaking with Moses and Elijah. The vision of Jesus is astonishing and radiant; the apostles are dazzled, and Peter expresses the wish to build tabernacles for Jesus, Moses, and Elijah to preserve the moment. The voice of the Father speaks from the cloud…then all appears as it did before, the vision living only in the apostles' memory.
Did the apostles behold something that was not true, only a deceived imagination? Of course not! They were privileged to behold the divine essence of Jesus, if only for a few moments. Jesus' human appearance was transfigured to reveal his divine personhood. The essence of the Incarnation is manifested before the eyes of the apostles.
We ourselves are meant to be transfigured by the grace of adoption through Jesus Christ and a share in his divinity. Therefore, we might ask ourselves who we are in our essence, and how do we best reveal to the eyes of others what that essence is, that we might be the light of the world our Lord calls us to be. Though we walk humbly through the world, we have in our Christian essence a mighty and wondrous grace that should illumine the whole of creation.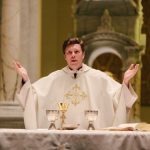 Fr. Stuart Crevcoure is parish pastor of St. Brigid's Parish in Tahlequah, and serves the Hispanic Apostolate of the Diocese of Tulsa & Eastern Oklahoma.