Advent & the Coming of Christ
By Aaron Henderson | December 17, 2021

"Advent is a period of intense training that directs us decisively to the One who has already come, who will come and who continuously comes."
—St. John Paul II

General Audience (18 December 2002)
←
Return to Musings
"Advent is a period of intense training that directs us decisively to the One who has already come, who will come and who continuously comes."
—St. John Paul II

General Audience (18 December 2002)
Advent is perhaps the most overlooked and forgotten season on the liturgical calendar. After all, at least in the United States, it proceeds Thanksgiving and precedes Christmas, two days with great cultural/societal influence. Though both are times of preparation before major feasts, Lent tends to overshadow Advent with its own penitential practices. But the Church offers us Advent for a reason, as a time of preparation for the coming of our Lord Jesus Christ. That is what the word "advent" (from the Latin ad+venire) means, after all—a coming or arrival.
The first question we might ask about this season is, "What advent of our Lord are we celebrating?" The most obvious answer is that we are celebrating Jesus's coming 2,000 years ago, as when we celebrate the Nativity on December 25. But the Church also sets before us two additional advents. The first is the coming of Christ to us here and now, in the liturgy of the Church, say, especially in the Holy Eucharist. Christ comes among us daily to fill us with His grace and conform us to Himself. The second is His Parousia, His future coming at the end of time. As Christians, we wait in hopeful anticipation for Christ's glorious return. We make our own the words of St. Paul: "Our Lord, come!" And we echo St. John in saying, "Amen. Come, Lord Jesus!"
What are some things we can do to prepare for this threefold coming of the Lord? Again, Lent is not the only season during which we should practice prayer, fasting, and almsgiving. We often think of the last, since gift-giving is so prominent during Advent and Christmas, but as a general principle, use these means to prepare your heart for Christ's coming. Advent is at once a season of joy in expectation of the Lord's Nativity and a time of sobriety and penance as we anticipate the Lord's just judgment on the Last Day.
In terms of more concrete or specific devotions to adopt, there are many worthy of recommendation. Perhaps the best known is the advent wreath, a wreath of evergreens to which are fastened four candles. There are typically three purple candles and one rose/pink candle, and every Sunday of Advent one more candle is lit until at last all are lit as a sign of the true Light's coming. If you have children, gather them around the wreath each night, especially on Sundays, and pray together in preparation for Christmas.
Another custom, not as widespread in the United States, is to have your children write letters to the Child Jesus on the eve of St. Nicholas's Day (that is, on December 5, anticipating the feast the next day). These letters often contain lists of desired presents for Christmas. Have your children hope that these letters, through the intercession of St. Nicholas and the holy angels, will make their way to Jesus. Incorporate this practice into your family prayer in the evening.
If you have a Nativity Scene or something similar, prepare the manger for the Christ Child. Some use small pieces of straw to make a fitting bed, each piece of straw used as a token of a prayer or charitable work done throughout the day. Have your children place these tokens in the manger each night. As your children are preparing their hearts for the Lord's coming, they are also preparing a warm and soft bed for Christ.
Finally, reciting or chanting the "O Antiphons" is a beautiful practice for the whole family. Beginning on December 17 and continuing through December 23, these prayers highlight different titles or attributes of Christ (O Sapientia; O Adonai; O Radix Jesse; O Clavis David; O Oriens; O Rex Gentium; O Emmanuel). Reflecting on the mystery of Christ should inflame the heart so that it burns with anticipation for Christmas. Whatever you choose to do, avoid the often-shallow practices of our post-Christian culture and receive the Advent season from the Church; it is a gift anticipating the Gift that is Christ and His salvation.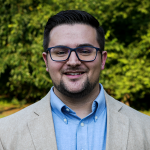 Dr. Aaron Henderson is a Faculty Tutor for the Alcuin Institute for Catholic Culture.