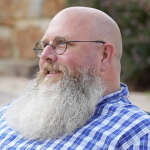 Joey Spencer is a Tutor for the Alcuin Institute for Catholic Culture, and serves as the Archivist for the Diocese of Tulsa.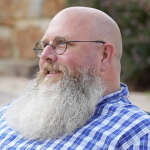 Each feast day, St Therese of Lisieux's sister Pauline would read Dom Guéranger's commentary on the Mass in order to prepare their minds and hearts. St. Therese writes of this experience, "How I loved the feasts! You knew how to explain all the mysteries hidden under each, and you did it so well that they were truly heavenly days for me."[1]
Dom Prosper Guéranger was a Benedictine monk who was instrumental in the liturgical reform movement of nineteenth-century France as well as the re-founding of Solesmes Abbey. Our Lady of Clear Creek Monastery is part of the Solesmes Congregation and thus becomes a connection between our diocese and the history of Solesmes and Dom Guéranger.
Founded in 1010, the Benedictine Priory of Solesmes was closed in 1791 as a result of the anti-Church sentiment in France during the French Revolution. In 1831, the buildings of the priory which had survived the French Revolution but had fallen into neglect were put up for sale by the French Government. Father Guéranger realized that if he could buy the priory it would be an opportunity to re-establish the Benedictine religious life to France, which was all but lost after the French Revolution. With the help of private donations, Guéranger succeeded in acquiring the Priory of Solemnes, and in 1832, religious life under the Rule of St. Benedict returned to France. "Prayer which had been interrupted, has been resumed."[2] In 1837, the Priory of Solesmes was made the Abbey of Solesmes and Dom Prosper Guéranger was appointed Abbot and Superior General of the Benedictines of the Congregation of France.
One of the results of re-establishing the Benedictine monastic tradition to France was that Dom Guéranger was able to focus on studying the Church's liturgy. In 1841, Guéranger began writing The Liturgical Year, a fifteen-volume work which explains day by day the liturgical year of the Church, including the Mass and the Divine Office. After the devastating years during and following the French Revolution, in order to strengthen the Church, he recognized the importance of the laity having an understanding of the liturgy.
But this liturgical prayer would soon become powerless were the faithful not to take a real share in it, or at least not to associate themselves to it in heart. It can heal and save the world, but only on the condition that it be understood. Be wise, then, ye children of the Catholic Church, and obtain that largeness of heart which will make you pray the prayer of your mother.[3]
His hopes were that he could revitalize the Church by introducing the faithful to the prayer of the Church with explanations and commentaries. As seen in the life of St. Therese of Lisieux, The Liturgical Year made it possible for the lay faithful to come to know the prayer of the Church and participate in the liturgy in a way that was impossible before it was published. Saints read his work and were strengthened in their faith. Thus it is fitting that in 2005 the cause for beatification was opened for Servant of God Dom Prosper Guéranger.
Dom Prosper Guéranger died in 1875 after finishing nine of the fifteen volumes. The other six volumes were completed by another Benedictine monk under Dom Guéranger's name. The Liturgical Year is today still considered one of the most important resources for liturgical studies. In addition to studying the liturgical year, Dom Guéranger also helped to recover and re-establish the use of authentic Gregorian Chant in the liturgy. May his work inspire us even today as we seek to draw closer to our Lord in the sacred liturgy.
[1]
Àngel de les Gavarres,
Thérèse, The Little Child of God's Mercy: Her Spiritual Itinerary in the Light of Her Autobiographical Manuscripts
(Washington, D.C.: ICS Publications, 1999), 23.
[2]
Dom Prosper Guéranger, O.S.B.,
The Liturgical Year: Volume I – Advent
(New Hampshire: Loreto Publications, 2000), 5.
[3]
Guéranger,
The Liturgical Year: Volume I – Advent
, 5-6.
I have a lot of books. One of my favorite things in life is to have a comfortable chair, warm coffee, and a good book in my hands. It is a common occurrence that the book I sit down with will not be the same book I find myself reading when I finish my pot of coffee. Some interesting statement in the first book will lead me back to something I read in another and so on and so on, until, by the end of the pot of coffee, there is a new stack of books which have migrated from the shelves to the side of my chair. Recently it was not the book, but the bookmark, which set me off on my reading adventure…and prayer. A great number of my books have been bought second-hand in used bookstores. Very often they will have prayer cards for friends and family members who have passed away tucked inside. I always keep these prayer cards. Sometimes they find their way into the current book I am reading, marking my place, but also reminding me to pray for the dead. On this particular day the prayer card was for a Ms. Chastain who was born in 1932 and died in 2008. On seeing her card, I said a prayer for her, and before I started reading the book, praying for this woman led me to another book in search of something I had recently read about a memorial stone asking for prayer in an old English church. The memorial stone was for the English poet Samuel Taylor Coleridge. When the famous poet of
The Rime of the Ancient Mariner
knew he was going to die, he prepared the poem that is engraved on his memorial stone.
"Stop Christian Passer-by! Stop Child of God. And read with gentle breast. Beneath this sod A poet lies, or that which once seem'd he O, lift one thought in prayer for S.T.C.: That he who many a year with toil of breath Found death in life, may here find life in death! Mercy for praise-to be forgiven for fame He asked and hoped through Christ. Do thou the same!"
The memorial stone is located in the center aisle of St. Michael's Church, Highgate. It is an ever-present reminder to each "passer-by" not only to pray for those who have gone before us, but also to pray and prepare for our own death. Having found my reference to Coleridge's memorial stone, and saying a quick prayer for Samuel Taylor Coleridge, I then recalled a similar request for prayers by the author of a twelfth century book on painting, glassmaking, and metalwork. The book,
On Divers Arts
, was written under the name Theophilus, which was almost assuredly a pseudonym. Scholars believe that the real author was either a Benedictine monk or Roger of Helmarshausen, an early twelfth century artisan. Whoever Theophilus was, he had the foresight to know that his text would be read many years after his death. Like Samuel Taylor Coleridge, he too asks for prayers when he is gone.
When you have read this again and again and entrusted it to your tenacious memory, you will repay your instructor for his pains if every time you have made good use of my work, you pray for me that I may receive the mercy of almighty God who knows that I have written what is here systematically set forth neither out of love for human praise nor from desire for temporal reward, and that through envious jealousy I have neither stolen anything precious or rare nor silently reserved anything for myself alone, but rather that I have given aid to many men in their need and have had concern for their advancement to the increase of the honor and glory of His name.[1]
Almost a thousand years later, after reading this passage in his book, I said a prayer for Theophilus. The Church teaches that we should pray for the dead; it is one way in which we participate in the communion of saints. Praying for the dead is also a reminder that we too will someday die, and God will judge us on how we lived. So, if you are reading this in your comfortable chair with a hot mug of coffee, please say a prayer for Ms. Chastain, Samuel Taylor Coleridge, and Theophilus, and those other friends and family who have preceded us in death. And, if you are reading this (hopefully many years in the future) and I have gone on to my judgment, please say a prayer for me!
[1]
Theophilus,
On Divers Arts
(New York: Dover Publications Inc., 1979), 13.