"The ways of the Lord are not easy, but we were not created for an easy life, but for great things, for goodness."
—Pope Benedict XVI

Address to German Pilgrims (April 2005)
Why does Catholicism emphasize suffering more than Protestantism?
A friend of mine asked me this a while back, and it's a question that got me thinking about some of the fundamental differences between Catholicism and other Christian groups. Though my friend asked the question in sort of an overgeneralized way—it's only fair to acknowledge that some Protestant groups acknowledge suffering more than others—nevertheless, it seemed like a good question for him to ask. Why does Catholicism have such an emphasis on suffering?
At the risk of oversimplifying the issue, it seems to me that Protestantism in general cannot have as robust a theology of suffering simply because, for a Protestant, the merit of works for salvation is greatly reduced (if not outright denied). By downplaying the role that works have in our redemption, Protestantism removes the meaning that suffering has in the Christian life. As Catholics, we can identify our sufferings with those of Christ, redeeming them for the purposes of our sanctification. For a Protestant, however, all the sanctifying work is done all at once, and the problem of continued human suffering (even after salvation) cannot be accounted for.
I think this explains the tendency in our modern culture to avoid pain at all costs. We see pain as unnecessary at best and oppressive at worst. Both the Enlightenment and the scientific/industrial revolution—spearheaded by Protestant humanists, no less—sought to mitigate or eradicate suffering in whatever way they could, from increasing food supply and curing disease to mass-producing various forms of material comforts that made life easier, from the automobile to the iPhone. Of course, there are a great deal of benefits to be gleaned from these technological advancements; but in some ways, they have made suffering a theological problem to be explained away (i.e. the "problem of evil") rather than a simple reality to be lived with.
Catholicism, on the other hand, has always had a seat of honor for suffering. Realizing that it is outside of human power to rid the world of evil, the Church has come to embrace Her lot on this side of eternity, and instead sought to join Herself with Christ in the sufferings of this life. This emphasis that Catholics place on suffering has—at certain points in history—rendered the Church vulnerable to the charge that Catholics were not concerned with the alleviation of human suffering (an accusation usually made by 18th-century Protestant humanists).Yet, in spite of all the modernist's efforts to "fix" the world, it seems that we are more dissatisfied with the world than ever. Suicide rates in developed countries are climbing, and growing civil unrest points to a deep discontentment with the world we have built.
We can't afford to miss the irony here: Catholicism, ever since Augustine's City of God, never tried to "make the world a better place"—yet at the height of the Middle Ages, it very nearly did so. Humanism, on the other hand, has spared no effort in its quest to build a perfect society, and its efforts have only been rewarded by the horrors of the 20th and 21st centuries.
Rather than trying to eradicate the various forms of suffering in our world, perhaps we should try embracing them—or maybe even seek them out. Many of the earliest Christians were drawn to the harsh lifestyle of the Desert Fathers, and many even sought out martyrdom…but why? Because by identifying our sufferings with those of Christ, we can become more like Him—and in becoming more like Him, perhaps we can then be used by Him to effect real change in the world. "For the word of the cross is folly to those who are perishing, but to us who are being saved it is the power of God" (1 Corinthians 1:18).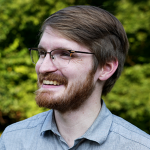 Eli Stone has served as a Research and Administrative Assistant for the Alcuin Institute, and presently works with the University of Tulsa.