A Brief Welcome to RCIA
By Dcn. Harrison Garlick | August 21, 2020

"To gain the happiness of heaven we must know, love, and serve God in this world."
—Baltimore Catechism, Question 4
←
Return to Musings
"To gain the happiness of heaven we must know, love, and serve God in this world."
—Baltimore Catechism, Question 4
Welcome to the Rite of Christian Initiation for Adults, RCIA!
Our Lord Jesus Christ said, "I am the way, and the truth, and the life; no one comes to the Father, but by me" (John 14:6, RSVCE). It is then the purpose of RCIA to introduce individuals to the Truth, the person of Jesus Christ. When a young man and woman fall in love, their pursuit of each other is not reducible to an academic affair or a systematic inquiry; rather, just as in our pursuit of the person of Christ, there is an unfolding of the two into one another with all its layers and mysteries. Truth is a person. RCIA is relational. It the coming to know Jesus Christ and his Bride, the Catholic Church. The purpose of RCIA is to cultivate the blossoming relationship between Christ and those who seek Him.
Relational, however, does not mean relativistic, as all of us are called to the same Christ our Lord. In his pastoral letter God Builds a House, Bishop Konderla of the Diocese of Tulsa & Eastern Oklahoma writes: "We are called to measure ourselves against the teaching of Christ and His Church, not our own imaginations or standards. We must receive the Jesus Christ who came two-thousand years ago, not create a 'Jesus' who meets the fashions and fads of this age" (2018, n. 6). In the Catholic Church, our relationship with Christ is allowed to flourish, as it is satiated on a Jesus unadulterated by invention and whim. In the Church, there is a tender safety to allow our relationship with Christ to be nourished on Christ and Christ alone.
RCIA takes time. The Church teaches, "To gain the happiness of heaven we must know, love, and serve God in this world" (Baltimore Catechism, q. 4). These holy obligations are in fact in order, as one cannot love that which one does not know. Though RCIA is not an academic affair, it is a formation of the intellect. The unfolding of the relationship configures the mind to the Truth that is Christ. Moreover, we live in a Christ-haunted culture, to borrow a phrase, and the call to learn about Christ may also be the call to unlearn many things as well. Time is necessary for us to come to know Christ. Time will allow our capacity to love Christ to increase and for that same love to carry us into His service.
May the Sacred Heart of Jesus, the King and center of all hearts, have mercy on us.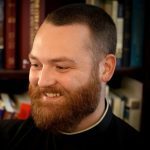 Dcn. Harrison Garlick serves as a Great Books Tutor for the Alcuin Institute, and is the Chancellor of the Diocese of Tulsa.