Newman & "Virgilian" Education
By Richard Meloche | August 14, 2020

"Wonder is the font of wisdom."
—Plato, Theaetetus, 155c-d
←
Return to Musings
"Wonder is the font of wisdom."
—Plato, Theaetetus, 155c-d
I am oft to describe the efforts and activities of the Alcuin Institute as essentially "Virgilian." I realize that this descriptor fails to clarify anything, but I don't know of a better adjective to use. To be honest, I stole the word from St. John Henry Cardinal Newman, who uses it to express the charism of the early Benedictine monks. Newman categorizes the Benedictines as "Virgilian" on account of their youthful "simplicity and romance," in contrast to others (viz. the Dominicans and Jesuits) who were keen on "elaborate undertakings," "deep calculations," and "sustained machinations." In other words, the early Benedictines, according to Newman, were not so much concerned with thinking and acting, but were rather more interested in simply experiencing reality—in all of its grandeur and mystery.
Newman then goes on to point out that it was specifically this poetic or Virgilian disposition of the Benedictines that healed not only the individual monks convalescing in his community, but eventually the entire ancient world. The simple and poetic presencing of reality through "prayer, penance, and toil" allowed for the maladies that were affecting the early monks and their surrounding culture to be healed, as it were, 'naturally'. Nature, quietly and often unobservable, heals not by artificial corrections and manipulations, but through simple, tranquil, and persistent contact with reality. This, of course, is how St. Benedict and the Benedictines set about to restore the world that was, at the time, in physical and social ruins.
If such a remedy worked then, why not now in the Diocese of Tulsa? The Alcuin Institute sets out to heal our equally fractured modern world, not by pursuing some mere notional knowledge about God, or advancing certain novel educational techniques, but by cultivating the foundation of wisdom, namely wonder and its accompanying qualities: admiration, enthusiasm, and delight. By quietly praying, reading, discussing, studying, and feasting (of course!), a soul—and subsequently a culture—is restored to its rightful dignity and poised to be elevated by the grace of God.
St. John Henry Newman terms this kind of life as a life of "fruitful leisure." I like that phrase (a lot) and I think it nicely summarizes all that the Alcuin Institute does. So, if you find yourself in need of some convalescing, feel free to come and join us for some good ol'fashioned "Virgilian" formation!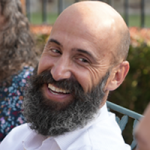 Dr. Richard Meloche serves as the president of the Alcuin Institute for Catholic Culture.