The Road to Emmaus & the Breaking of Bread
By Fr. Stuart Crevcoure | April 19, 2021

"Then the two recounted what had taken place on the way and how he was made known to them in the breaking of the bread."
—Luke 24:35
←
Return to Musings
"Then the two recounted what had taken place on the way and how he was made known to them in the breaking of the bread."
—Luke 24:35
The Emmaus story is one of the most intriguing resurrection appearances of Jesus to his disciples. Like the story of Mary Magdalene when she does not immediately recognize Jesus outside the tomb, the identity of Jesus is concealed from the two disciples on the road to Emmaus. Only when Jesus stops at the inn and breaks bread with them do they suddenly recognize him.
To appreciate the resurrection appearance on the road to Emmaus, one must consider the whole story from beginning to end. The two disciples are troubled as they set upon their journey. Not only have they witnessed the harrowing events of Jesus' passion and death in Jerusalem, but now there is this bizarre tale of an empty tomb. The downcast disciples encounter Jesus on the road as a fellow traveler, but do not recognize him. Sharing the reason for their distress, Jesus explains the Scriptures to them, and how the passion and resurrection fulfill all that had taught and foretold by Moses and the prophets. The disciples desire more; a fire has been kindled in them, and they ask Jesus to stay with them. Then, in the blessing and breaking of the bread at the table, the Risen Jesus is suddenly revealed to them. Filled with joy, the disciples race back through the darkness to Jerusalem to relate what they have seen.
What St. Luke achieves so remarkably in the Emmaus story is not simply to give us a dramatic resurrection appearance with a Eucharistic twist. He is telling us a story that is the Eucharistic liturgy we experience in the celebration of the Mass. Emmaus resonates in our hearts because it matches our experience of communal worship. We come to Mass on Sunday with our lived experience which often contains difficulties and worries, or simply the struggle to discern God's will for us. But we open ourselves to hear and receive God's word, to hear them expounded in the homily. Thus exhorted, we profess our faith and enter into the Eucharistic prayer, culminating in the moment of receiving Holy Communion. But our story does not end there, for we are then blessed and dismissed to go forth and proclaim the Good News to others.
Every Mass we attend is an Emmaus journey. Every Mass is a movement from the confusion, banality, and sadness of the world to the beauty of life in the Kingdom of God with Jesus. May we have eyes to see and ears to hear, that the Lord Jesus may be revealed to us in the breaking of the bread, and may we go forth in joy to share the good news that Christ is truly risen!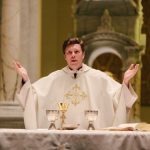 Fr. Stuart Crevcoure is parish pastor of St. Brigid's Parish in Tahlequah, and serves the Hispanic Apostolate of the Diocese of Tulsa & Eastern Oklahoma.